Rehearsal Plan:
Discuss business (scheduling conflicts, general questions, expectations)
Discuss Michael Haneke's Funny Games
Go over character bios
Meditation
Intro to Animal work
Sculpture work
Misc.
Notes:
Nobody has any scheduling issues except Kate, who has tour guiding training until 6pm tomorrow. I reminded the cast that I expect punctuality (from both themselves and me) and that I want them to do their homework for these characters. I let them know what resources I was going to make available to them, and I encouraged them to do their own character research outside of what I provide for them.
Really amazing discussion on Funny Games. Tom and Eric had a lot of great thoughts about how the movie is similar and dissimilar from the play. Eric mentioned that he wants Dr. Simian to be more sincere than the villains in Funny Games; I completely agree and I'm very happy he is already looking to find depth in these outrageous characters.
Tom and Eric didn't have their character bios finished, but they mention that they wanted to include more detail and dig deeper into the character's past. I want to encourage this critical engagement, so I extended their deadline until tomorrow. I also told them to find a secret about their character that they will keep hidden until the rehearsal process is over. I think this will help them round their characters and I plan on using these secrets in object work.
Meditation was good. I tripped over my words in the beginning which probably wasn't very relaxing, but I pulled it together in the end. The cast was very receptive and I think they got something good out of it.
Animal work could have been better. I assigned Eric a snake, and he told me that he thought a Basilisk would be more appropriate. I like assigning a mythical aspect to Simian so I told him that was fine as long as he knew what qualities of movement, behavior, and sound a Basilisk would have. I gave Tom the kangaroo mouse, which he seemed excited about. However, both Tom and Eric had difficulty going deeper into the physicality of the creature. I think more research will assist this, but if they aren't connecting to it in the next few rehearsal I may change tactics.
Sculpture work was excellent. I had Tom and Eric sculpture each other into their character based on a random line in the play. This was interesting, but I was absolutely floored when I asked them to sculpt their partner the way their character sees them. Eric sculpted Havilland in a very seductive damsel in distress position, and Tom sculpted Simian in the image of a dashing prince. Then I sculpted them into a very theatrical position that was reminiscent of the cistern chapel fresco, and then I asked them to adjust it into what they found more comfortable and true to character. We had a great discussion afterword about the seductive relationship between Havilland and Simian, which then grew into a deep discussion about the relationship between creator and creation. I'm really excited to explore this power dynamic later on.
I didn't have anything planned for this section but based on the sculpture work and the revelations that followed, I asked them to perform and improv loosely based on their characters. They engaged in a very dynamic discussion about ownership, art, and abandonment that I can't wait to expand on.
Overall a very exciting first rehearsal!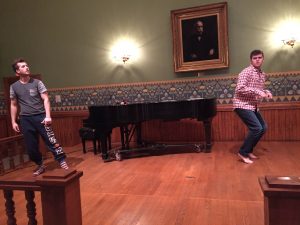 Eric and Tom,  Animal Work